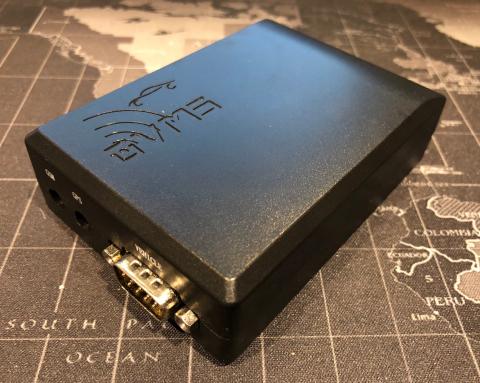 The first batch of production OVMS v3 modules and modems is being produced now. We estimate availability on Fasttech late this month (March 2018). Specifications and Pricing follow.
OVMS v3.1 module: US$90
Black injection-moulded plastic enclosure
ESP32 WROVER processor (16MB flash, 4MB SPI RAM, 520KB SRAM, dual core 160/240MHz Xtensa LX6 processor)
WIFI 802.11 b/g/n
Bluetooth v4.2 BR/EDR and BLE
3x CAN buses
1x Micro USB connector (for flash download and serial console)
1x Micro SD card slot
1x Internal expansion slot
8x EGPIO, 2x GPIO
1x GSM antenna connector
1x GPS antenna connector
1x DB9 vehicle connector
1x DB26 expansion connector
OVMS v3.1 SIM5360E 3G modem module (either US or EU edition): US$60
Modem is an optional plug-in module, that can be changed in future (to allow for new technology)
3G (EV-DO/HSPA+) dual band modem
Includes 2G (GSM/GPRS) and 2.5G (EDGE) quad band
GPS/GNSS
Nano (4FF) SIM slot
HOLOGRAM.IO nano sim
US edition is SIM5360A (Dual-Band UMTS/HSPA+ 850/1900MHz, Quad-Band GSM/GPRS/EDGE 850/900/1800/1900MHz)
EU edition is SIM5360J(E) (Dual-Band UMTS/HSPA+ 900/2100MHz, Quad-Band GSM/GPRS/EDGE 850/900/1800/1900MHz)
Bundle (OVMS v3.1 module + v3.1 modem): US$150
A time-limited special discount of US$20 off this bundle price will be provided for existing OVMS v2 owners (making this bundle offer US$130).
This first production batch is intended for experienced OVMS v2 users and v3 developers. Please note:
Firmware is not complete, and should be considered beta
Functionality is approximately equivalent to basic OVMS v2 firmware, but some advanced features (such as ACC, SMS control, etc) are not available yet
Firmware is far in advance of v2 in other aspects (such as built in web server, metrics, console, tcp/ip support, diagnostics, geofencing, scripting, etc)
Firmware can be updated either Over The Air (OTA), by Micro SD card, or over USB interface
Vehicle support currently includes: Kia Soul EV, Nissan Leaf, Renault Twizy, Tesla Roadster
The antenna and vehicle connectors for OVMS v3 are the same as for OVMS v2, and existing cables/antennas can generally be re-used for OVMS v3. Note, however, that the frequency ranges supported by individual 3G networks may be different than 2G, so may benefit from an antenna specifically designed for the 3G frequency ranges used.